Teaching
I give courses on:
Master 2 C2-19 Biochemical Programming (24h) with Jean Krivine , at the Master Parisien de Recherche en Informatique of the Universities of Paris Diderot, UPMC, X, ENS.

formerly
and occasionnaly in summer schools, tutorials, other masters:

Ecole Thématique Modélisation Formelle des Réseaux de Régulation Biologique, Ile de Porquerolles, June 2019, June 2016, June 2013, June 2010.
Summer School on New strategies in medical diagnosis and personalized medicine Taipei, Taiwan, July 2019.
Summer school on New strategies in medical diagnosis and personalized medicine, Ninh Binh, Vietnam, July 2018.
Thematic Research School Advances in Systems and Synthetic Biology,Modelling Complex Biological Systems in the Context of Genomics, Evry 2018, 2004, Strasbourg 2014.
Master de Modélisation en Pharmacologie Clinique et Epidémiologique MCPE, 2018, 2014, Visioconference
Tutorial at International Conference on Systems Biology, ICSB 2010, Edinburgh, UK
Collège de France, 11 dec 2014 on "Machinerie cellulaire et programmation biochimique: vers une informatique de la cellule"; 23 May 2008 on Machines abstraites, vérification et biologie cellulaire (chaire de Gérard Berry),
Spring School on Dynamical Modeling of Biological Regulatory Networks, 2007, Les Houches.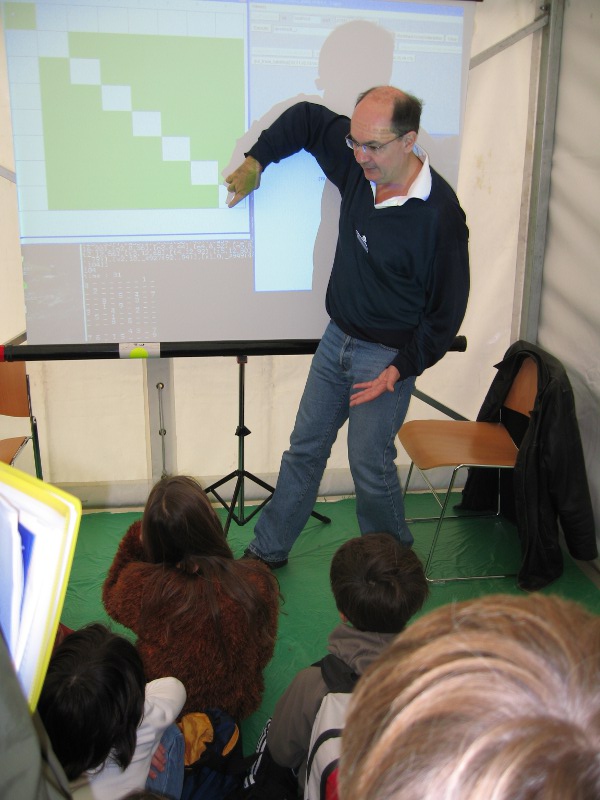 Master 1, INF555 - Constraint-based Modeling and Algorithms for Decision Making Problems (36h) with Sylvain Soliman, at Master of Artificial Intelligence & Advanced Visual Computing, Ecole Polytechnique

formely

Constraint Programming at the Master Parisien de Recherche en Informatique and other places like
Ecole Jeunes Chercheurs en Programmation, EJCP'2011,2006-2005,2003-2002,2000,1998-1995,
European Summer School in Logic, Language and Information ESSLLI 2001, Helsink, FInland, ESSLLI 1997, Aix en Provence.

Master 1 MODAL INF473L - Programmer dans le langage du vivant (60h) with Sylvain Soliman, Ecole Polytechnique
and sometimes courses to behaved children like on the picture.
In a former life in the 90's, I was already teaching constraint programming at Ecole Polytechnique and at Ecole Normale Supérieure. My lecture notes at Ecole Polytechnique have been edited in 1996 in a book in French.