Members
"If you want to go fast go alone, if you want to go far go together."
Faculty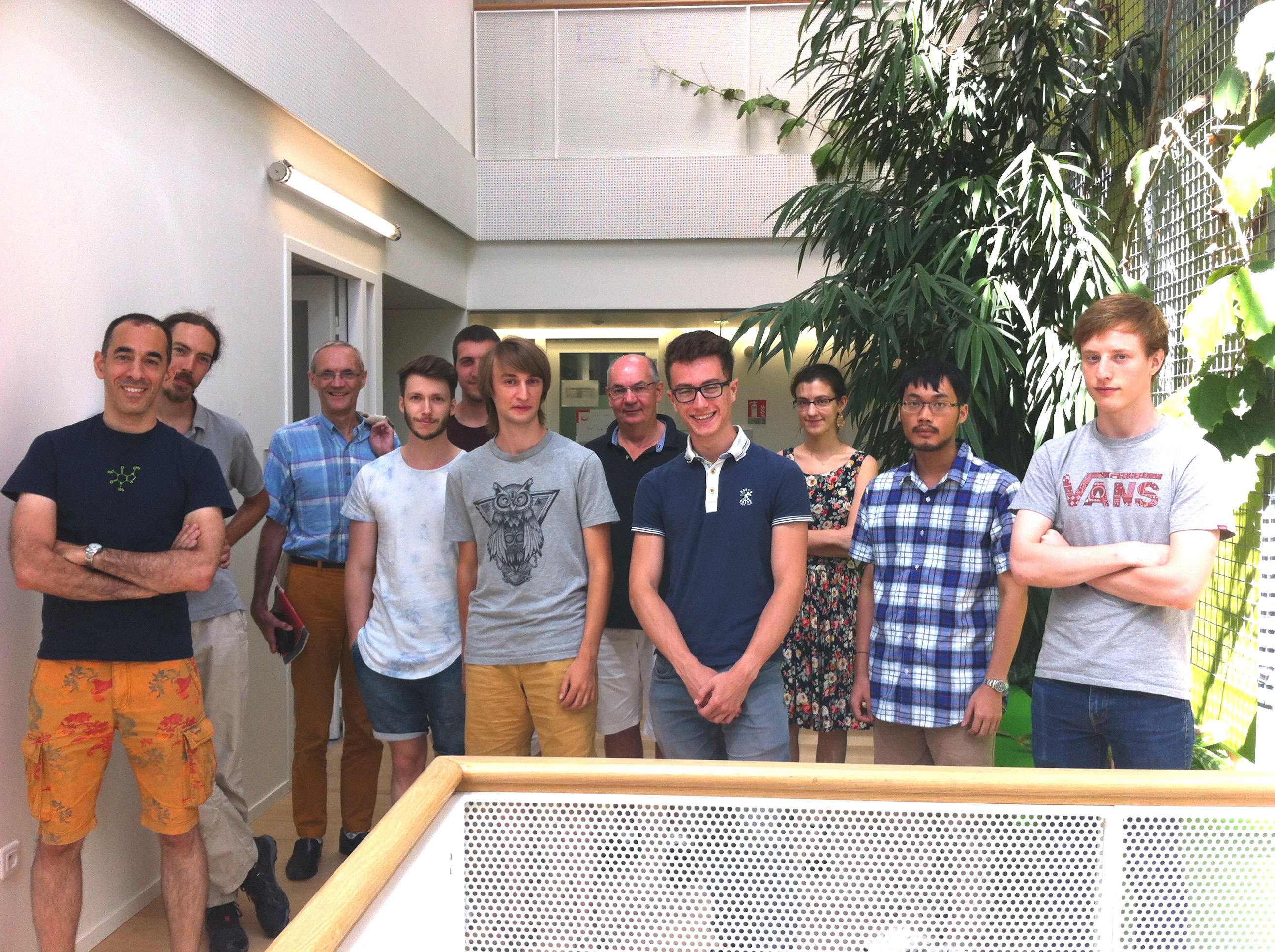 External collaborator
Engineer
PhD candidates
Internships
Julien Bienvenu (Ecole Polytechnique)
Administrative assistant
---
Former members (without interns) with their current affiliation
Please contact François Fages for updating data in this list.
Jeremy Grignard (CIFRE Servier, ED IPP 2019-2022) Data scientist, Institut de recherches Servier
Julien Martinelli (Inserm-Inria, ED IPP 2018-2022), Post-Doc Aalko Univ., Helsinki, Finland
Éléonore Bellot (Inria, PhD candidate ED IPP 2018-2021) Scientific Mediation ESPGG

Elisabeth Degrand (Inria, PhD candidate ED IPP 2019-2020) Theodo agile web dev.
Grégory Batt (Inria Paris, Senior Research Scientist, Institut Pasteur)
Jakob Ruess (Inria Paris, Research Scientist, Institut Pasteur)

François Bertaux (InBio, Research engineer, Institut Pasteur)

Arthur Carcano (InBio, PhD ENS)

Chetan Aditya (InBio, PhD Inria, ED FdV)

Virgile Andreani (InBio, PhD ENS, ED STIC)

Sebastian Sosa Carrillo (InBio, PhD Inria, ED FdV)

Elise Weill-Duflos (InBio, PhD Inria)

Andjela Davidovic (InBio, Institut Pasteur, part-time)

Steven Fletcher (InBio, Inria, ADT)

David Coudrin (Inria, ADT)

Philippe Dague (Prof. Univ. Paris Sud)

Eva Dechaux (Engineer UPSud 2018) School Professor of Mathematics

Matthieu Pichene (PostDoc Inria Pasteur 2018)

Chiara Fracassi (Postdoc Inria 2015-2017, with MSC lab) AIV master coordinator

Jean-Baptiste Lugagne (PhD 2012-2017, with MSC lab) Post Doc Boston Univ.

Thierry Martinez (PhD and temporary engineer 2007-2015) Permanent Engineer, Inria Paris
Sucheendra Palaniappan (Post-Doc 2016) Scientist at the Systems Biology Institute, Tokyo

Artémis Llamosi (PhD 2012-2015, with MSC lab) Head of Integration & Testing at Rythm

Jonas Sénizergues (PhD 2016-2018 ED STIC)

LRI UPSaclay
David Rosenblueth (Prof UNAM, Mexico, invited in 2016)
Pauline Traynard (PhD 2013-2016), Application manager LIXOFT Antony, after PostDoc Curie Institute

François-Marie Floch (Engineer 2013-2015) Engineer, LIXOFT Antony

Valentina Peschetola (Post Doc 2013-2014 CNRS, MSC lab)

François Bertaux (PhD 2011-2016) Post-doc Imperial College, London

Katherine Chiang (PhD 2013-2015) , TSMC Academician, R&D Manager, Taiwan

Philippe Morignot (Engineer 2014-2015) Vedecom, Versailles

David Fournier (PhD 2011-2014, Cifre General Electric Transportation) Equinoa, Smart&Soft, Paris

Xavier Duportet (PhD 2010-2013, with MIT) Co-founder&CEO Eligo Bioscience, Co-funder and President of Hello Tomorrow

Steven Gay (PhD PostDoc 2009-2015) GOOGLE, Paris, after Post-doc Louvain-la-neuve, Belgium

Luma Vitorino (PhD 2012) Engineer, CESAR, Recife, Brazil

Szymon Stoma (PostDoc 2011-2014) Engineer ETH Zurich

Edwin Jake Wintermute (PostDoc 2013)

Francesco Santini (PostDoc) Assistant Professor, Univ. Perugia, Italy
Faten Nabli (PhD 2010-2013) Engineer OnePoint Paris, after Post-doc SANOFI

Raphael Martin (Engineer 2012)

Jannis Ulhendorf (PhD 2010-2013, with MSC lab) Postdoc at Humboldt Univ. Berlin

Neda Saeedloei (PostDoc 2012) University of Texas at Dallas

Aurélien Rizk (PhD 2008-2011) Research Scientist, Paul Scherrer Insititute/InterAx BioTech, Switzerland
Elisabetta de Maria (PostDoc 2009-2010) Maître de Conférence, U. Nice
Pierre Deransart retired
Domitille Heitzler (PhD 2007-2011) Post-Doc, University of Dublin, Ireland
Nicolas Beldiceanu Professor, EMN Nantes
Dragana Jovanovska (Engineer 2010-2011) Swift, Belgium

Sylvain Pradalier (PostDoc 2010) Research Engineer, Dassault-Systemes

Julien Martin (PhD 2007-2010) ECIJ, founder Magma, after software engineer Imaginatio, Paris

Sriram Krishnamachari (PostDoc 2009) Univ. New Delhi, India

Emmanuel Coquery (PhD 2001-2004) Maître de Conférence, U. Lyon 1

Aurélie Strobbe (PhD) Engineer EDF, Paris

Rémy Haemmerlé (PhD 2003-2007) Software developer Leonteq, Zurich, Switzerland, after Post-Doc UPM Madrid

Andras Kovacs (Post-Doc) Researcher SZTAKI, Budapest

Laurence Calzone (Post-Doc) Research engineer, Institut Curie, Paris
Nathalie Chabrier-Rivier (PhD) Pivoine Informatique, Grenoble
Daniel de Rauglaudre (Engineer) Inria Paris

Ludovic Langevine (PhD) Mission Critical IT, Belgium

Daniel Diaz Maître de Conférence, U. Paris 1

Guillaume Arnaud (Engineer)

Sorin Craciunescu (IMC, UK)

(PhD)
Jean-Claude Sogno retired
Philippe Codognet Professor, UPMC, University of Tokyo, Japan
Yan Georget (PhD) BotFuels, Paris

Nadine Richard (PhD) ENST